Caring for our Trans Families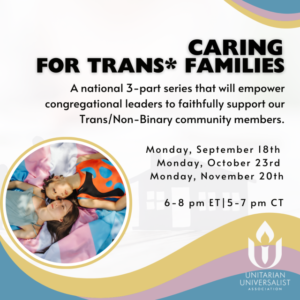 Join Regional Congregational Life staff and consultants for a national three session series that will empower congregational leaders to faithfully support our transgender/non-binary community members. In this series, we will examine what multi-faceted support looks like including pastoral support, structural support and resources to help congregations work toward radical inclusivity, and advocacy in the public sphere.
All sessions begin at 5:00 PM Central Time/6:00 PM Eastern Time and end at 7:00 PM Central Time/8:00 PM Eastern Time.
Your individual registration covers the entire three session series.
Registration will close on September 12th. 
Spaces are limited—Register today.
Copy the Google (ICS) or Outlook (ICS) link address to subscribe to this event (or download the file to import it) in a program which supports the iCal format.